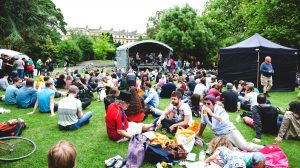 Saturday 21st July
This year's theme is Carnival Culture – Exploring the colourful traditions and fascinating cultures behind three distinct styles of Carnival. This year we discover Rio Carnival, The Caribbean Islands and New Orlean's Mardi Gras.
PARTY IN THE PARK 
Sydney Gardens | 10:00 – 22:00

(Located less than a minute walk from The Windsor)
The beautiful Sydney Gardens plays host to another whole day and evening of totally free festival fun.
MAIN STAGE
Eclectic Mix of Live Bands
Bigger stage and even bigger sounds ranging from Afro to Latin, Dub to Reggae and Flamenco to Balkan. This eclectic lineup of World music is guaranteed to get you jumping until the sun sets.
MATUKI
A line-up of sizzling horns, tough basslines and interlocking guitars from the heavy hitters of Afrobeat. Matuki are bringing their nine-piece setup to deliver a high-energy blast of positive vibes to carnival funk fused jazz with a psychedelic edge.
FOOD & DRINK
Tastes From Around the World
With an emphasis on local independent traders you can expect a mouth-watering array of food and drink at this year's event. Grab yourself some Caribbean Jerk chicken, cup of Columbian coffee, a South American vegan snack or a couple of delicious home made cakes.
KIDS ZONE
Fun for the littluns'
Over 11,000 of you beautiful revelers attended the party last year including loads of young Carnival enthusiasts.
There will be an incredible collection of oversize inflatables, interactive toys and weird n' wonderful games to keep the wee ones entertained.
CHILL FIELD
Therapy & Healers
Hidden away behind the trees is built a secret hideaway of serenity. Just a few seconds walk from the main site yet beautifully secluded you'll find a haven of healers, therapists, relaxing activities and workshops. Come put your feet up, have a massage and treat yourself to some down time.
ACOUSTIC QUARTER
Singer Songwriters and New Orleans Jazz
A chill out zone with an intimate performance area for acoustic performers and another licensed bar serving up bespoke Carnival cocktails.
LINEUP: Kerensa Mason | Doug Evans | Emma Browne | Horning Glory