There are many tours available in Bath, here are some to look out for on your next trip to the city!
'Around and About Bath'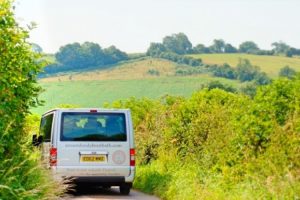 – Small-group, in-depth, local tours with expert, engaging locals.
"For those looking to go deeper, escape the tourist crowds
… and truly experience England."
Around and About Bath are a local tour company that do things very differently.  They create immersive, intimate, in-depth 'chocolate-box' adventures for those who want to really experience authentic England.
Established by a former History teacher, their tours are intricately designed, fully cost-inclusive (so you can focus on the experience), door-to-door adventures that include a range of experiences, stories, encounters and people.
They'll take you to the 'must-sees' but also share with you the hidden gems, off the beaten track and away from the crowds, to discover an untouched England; the very best of our heritage, landscapes, food, drink, stories and places. They deliberately don't share the itinerary – like a good book, the revelations and discoveries are part of the magic!
Every cost is included, including collection from central Bath locations.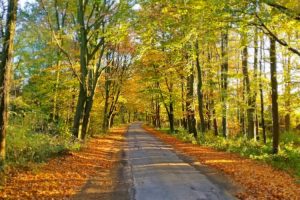 'Bizarre Bath'
A unique evening's entertainment in Bath.
Meet outside of The Huntsman, 1 Terrace Walk, Bath, BA1 1LY
This unique evening entertainment will appeal to everyone.
Laugh yourself silly on the celebrated stroll which takes an irreverent look at the city of Bath.
You'll experience unforgettable mysteries, thrills, and surprises that stretch the traditional image of the city.
So if you're looking for something hysterical rather than historical, why not join a Bizarre Bath tour? Tours run every evening at 8pm, from March 28th-October 27th, starting outside The Huntsman.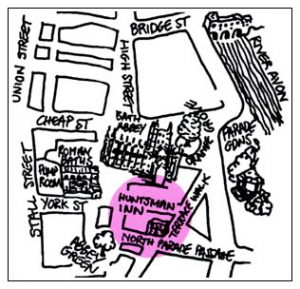 Bath Adventures – Walking Tours
Historic pub tours with tastings, quick tours of Bath with photo quizzes for kids and combined walking and boat tours.
Bath Quays (North), Central Bath
Next to Avon Street Carpark
Visiting Bath with the whole family, or prefer a shorter walking tour? Take a Love Bath tour for a unique perspective of this World Heritage Site. This central city walking tour will give you an overview of Bath's rich history and attractions in under an hour, without the boring bits and with a fun photo quiz for the kids. Offering an insider's view on what is hot in Bath today, the savvy guides will help you make the most of your visit.
Join a knowledgeable guide for a two-hour, adult's only tour of some of Bath's historic pubs, sampling free tastings along the way and learning about Bath's history through beer!
Explore the World Heritage Site of Bath from the river and on foot with a small group tour combining a boat and walking tour of central Bath. Get a great overview of the city's rich history and attractions whilst maximising your time in Bath. Afternoon and evening tours end with a boat tour, letting you relax with a wine, prosecco or soft drink purchased on the boat. Morning tours start with a boat tour where you can purchase a coffee, tea or prosecco to start your day.
Bath Bus Tours
Rest your legs without missing the sights by joining a bus tour.
Hop on and off the iconic red City Sightseeing Bus Tour to visit all the key attractions on your list without having to walk for miles.  On board, learn about Bath's rich history as well as a surprising fact of two.  You can also relax on a scenic tour of the skyline, taking in the beautiful views over Bath without having to climb a single hill!
Want a more personal tour? Have something in the South West you really want to see? Plan a more bespoke tour with knowledgeable local guides or join a small group on full day or half day trips to the surrounding countryside to take in sights such as Stonehenge, Cheddar Gorge and Wells Cathedral.
Boat Tours
Bath is surrounded by beautiful waterways so why not explore the area by boat? Set out on a lazy weekend trip along the Kennet and Avon on a canal boat. Pack a picnic hamper and take a romantic leisurely punt along the River Avon. Join a river cruise to visit nearby Bathampton or make a day of it and pop into some lovely waterside pubs.
Hire a narrowboat with friends and try steering it yourself, or hop aboard a skippered boat for a luxurious cruise. Sit back and enjoy a drink on the John Rennie, Bath's only floating restaurant.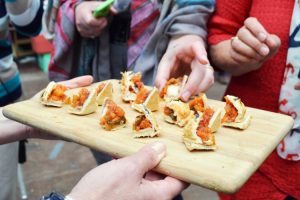 Savouring Bath
Calling all foodies – discover Bath using your taste buds on a culinary walking tour, sampling food and drink with the city's incredible artisans!
Bath has become one of the UK's leading foodie destinations and on a tour with Savouring Bath you'll discover the best of the city's artisan offerings using your taste buds, while strolling through its elegant eighteenth-century streets and alleyways.
Savouring Bath offer a unique way to experience the city while sampling produce from Bath's artisan food and drink producers. Tours are lead by local guides who are all passionate about the city and highly knowledgeable about the best independent food and drink outlets. Guides will share their expert knowledge on the city and lots of top foodie tips as you are lead from unusual tea houses to artisanal coffee roasters, breweries to bread, and farmers' markets to falafels, where residents and visitors alike, will discover the top food hotspots of Bath.
A selection of scheduled tours are available on Mondays, Thursdays, Fridays and Saturdays, including Food Heroes, Local Flavours, and Guilty Pleasures, all of which can be booked online.
Private, bespoke tour options are also available for groups, including Foodie Frenzy, which is a fast-paced, food sampling scavenger hunt, perfect for family groups, hen parties and teambuilding events, and has been one of Savouring Bath's most popular private events!
Frankenstein in Bath
Follow in the footsteps of Mary Shelley as she wrote Frankenstein in the city.
Starts outside Sally Lunn's, North Parade Passage, BATH, BA1 1NX
Back for 2018 with a clutch of five-star reviews, Frankenstein in Bath traces Mary Shelley's footsteps as she wrote her gothic masterpiece in the city in the autumn and winter of 1816/17. It also reveals the real-life disasters that unfolded all around her.
Frankenstein in Bath takes you to the places where this forgotten story happened: where Mary Shelley lived, where she wrote, and where she kept her dark secrets.
The popular tour, which won Best Live Performance at the 2017 Creative Bath Awards, lasts approximately 90 minutes.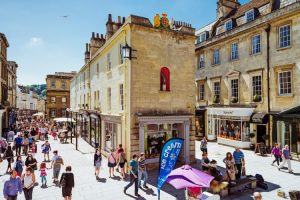 The Jane Austen Photo Tour in Bath
Visit all of Bath's must-see Jane Austen-related spots on a Jane Austen Photo Tour.
Visit all of Bath's must-see Jane Austen-related spots on a Jane Austen Photo Tour. You'll enjoy plenty of photo opportunities throughout this three-hour tour.
Visit Jane Austen's former homes in the city, as well as the church her father was buried in, and plenty of the spots mentioned in her novels.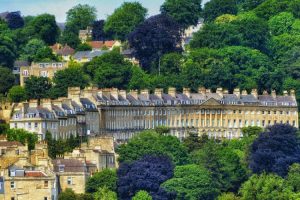 Ghost Walks of Bath
Discover Bath's spooky past on a Ghost Walk of Bath.
Starting at The Garrick's Head Pub
Experience the highly-acclaimed Ghost Walks of Bath tour on foot as you walk through the ancient and mystical streets of the Roman city of Bath. Experienced guides have been thrilling visitors to Bath since 1974 with the real-life stories of macabre goings-on, hauntings and the tragic events of yesteryear.
By popular demand, walks happen on Thursday, Friday and Saturday nights throughout the year, beginning at The Garrick's Head pub next to the Theatre Royal.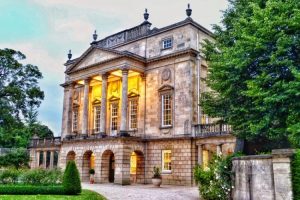 Bath Escape Detective Tours
Get your magnifying glass at the ready and prepare for an unbelievable tour!
12A Princes Street, Bath, BA1 1HL
Join the ranks of the great detectives in this innovative and unique tour through Bath. Ever pictured being Sherlock Holmes or Miss Marple? Your time has come! Visit the most important sights and attractions in the historical centre of Bath, all the while collecting clues that will help you investigate the mystery.
On this self-guided tour, you visit both well and lesser known sites to uncover the information you need to solve the crime or puzzle. But take a close look at the sites on the itinerary or you may miss crucial evidence! Magnifying glass and deer stalker hat optional!
 Once you have completed the tour you are invited for a cup of tea, so you can discuss your experiences while they are vivid in your memory.
Laugh at Bath – Walking Tours
Historical and fun walking tours of central Bath.
Outside Bath Abbey , BA1 1LT
Light-hearted, fun, unconventional and mischievous tours through all of Bath's colourful history carried out in an informative, professional and entertaining way. See all the main sights with Laugh at Bath – Bath Abbey, Pulteney Bridge, The Pump Room, Spas, Theatre Royal Bath, Queen Square, Royal Victoria Park, Royal Crescent, The Circus, Assembly Rooms, Milsom Street and more.
These walks are ideal for couples, individuals, families, groups of friends, school and student parties (UK and overseas), corporate groups, teambuilding, conferences also hen and stag parties.
Bespoke itineraries and special interest tours are available. Guided walking tours, also from a coach, minibus and chauffeured car are also available.